Offices, coworking spaces and meeting rooms on Gran Vía
With more than 25 years of experience in the rental of adaptive workspaces, Ibercenter stands as a cutting-edge solution in Madrid's emblematic Gran Vía. We are more than a workspace provider, we are your trusted partner to take your business to the next level.
We offer flexible and versatile spaces that can be adapted to your needs. No matter if you need an office for one person, a coworking space or a fully equipped meeting room. With our personalized advice, we guarantee a smooth and efficient transition for your business, providing a high quality and exceptional experience.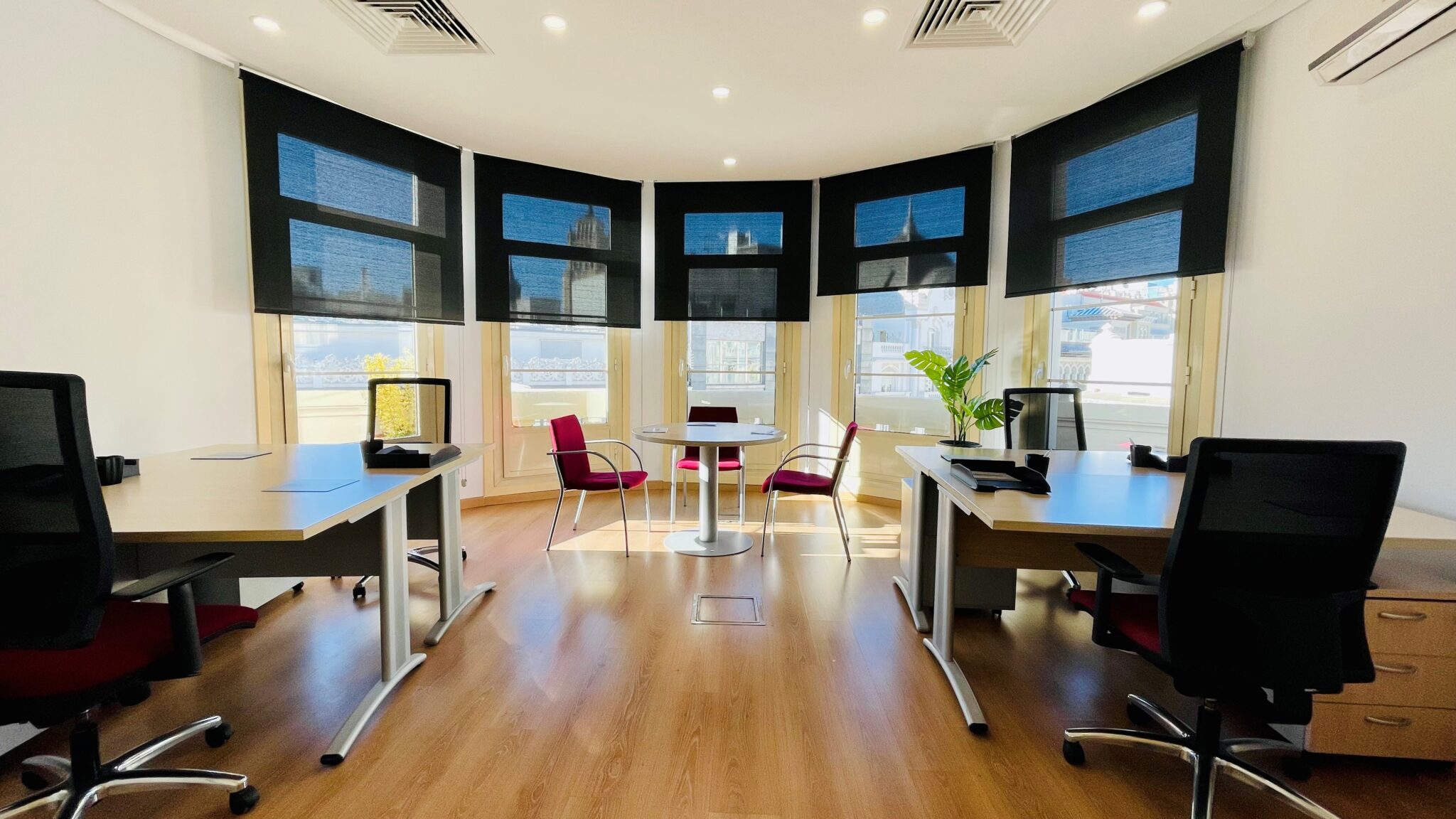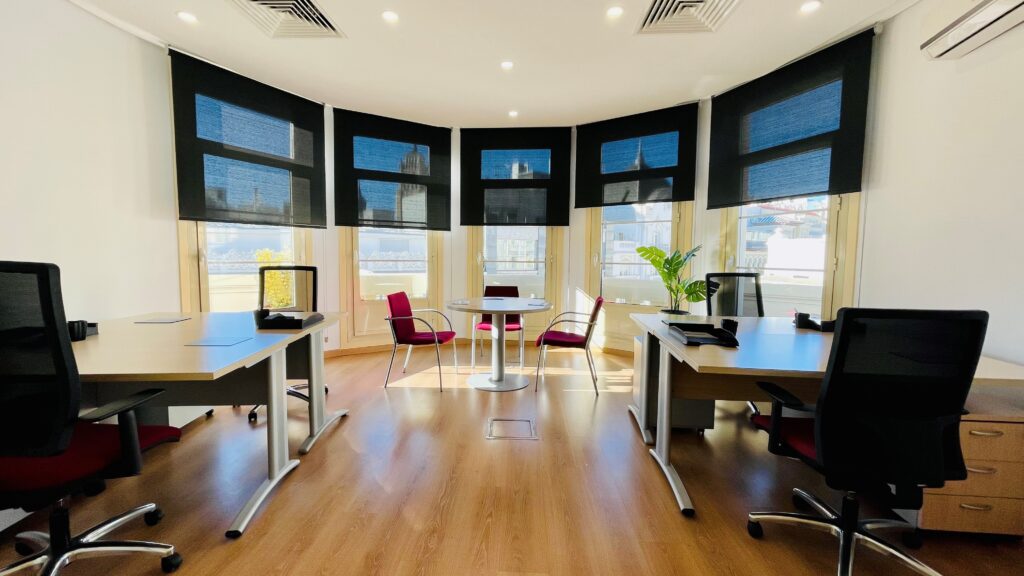 Ibercenter Gran Vía: A professional oasis in the epicenter of Madrid
At Ibercenter Gran Vía we have created an ideal professional environment that adapts perfectly to your needs. Discover our illuminated and multifunctional offices of different capacities, some with private terraces and elegant meeting rooms. In addition, the experience at Ibercenter Gran Vía extends beyond the office, creating a community atmosphere among professionals from diverse industries. In this environment conducive to networking and collaboration, you also have the opportunity to organize events on our terraces overlooking the Gran Via. We strive to provide you with all the necessary services to make you feel at home.
Located in the heart of Madrid, Ibercenter Gran Vía is in a privileged location for professionals and companies. Located on the famous Gran Vía, this workspace is surrounded by a wide variety of stores, restaurants and cultural places of interest, such as the Lope de Vega Theater, the Telefónica building and the Plaza de Callao. In addition, its proximity to several subway stations and bus stops will allow you to move around the city with ease. La ubicación de Ibercenter Gran Vía, junto a la calidad y flexibilidad de nuestros servicios, hacen de este espacio de trabajo la opción perfecta para aquellos que buscan establecer su negocio en una zona dinámica y enérgica de Madrid.
The best plan adapted to your business
With more than 25 years of experience in the industry, Ibercenter is an expert in offering high quality solutions customized to your business requirements. Discover all the options available to help you grow your business in a unique environment.
Ibercenter's Gran Via offices offer a professional and personalized working environment in the heart of Madrid. Designed to accommodate teams of any size, our offices provide:
24/7 access according to your needs
Ergonomic furnishings, ensuring your comfort at all times
High speed internet connection
At Ibercenter Gran Vía, we have a variety of meeting rooms to suit your needs, whether for team meetings, client presentations or training sessions.
Our rooms offer you:
Flexible booking on an hourly, daily or permanent basis
Audiovisual equipment for your presentations
For those professionals who do not need a constant physical work space, but do need a prestigious postal address, our virtual offices in Gran Via are the perfect solution.
Commercial address in a prestigious location
Call answering and mail handling services
Access to meeting rooms if ever needed
Would you like to meet us?
Ready to discover what we can do for you? Come visit us and discover everything Ibercenter has in store to help you grow your business!
Each business is unique and has particular needs. At Ibercenter Gran Vía, we understand this and offer you a flexible and customized plan to help you maximize your growth potential in the heart of Madrid.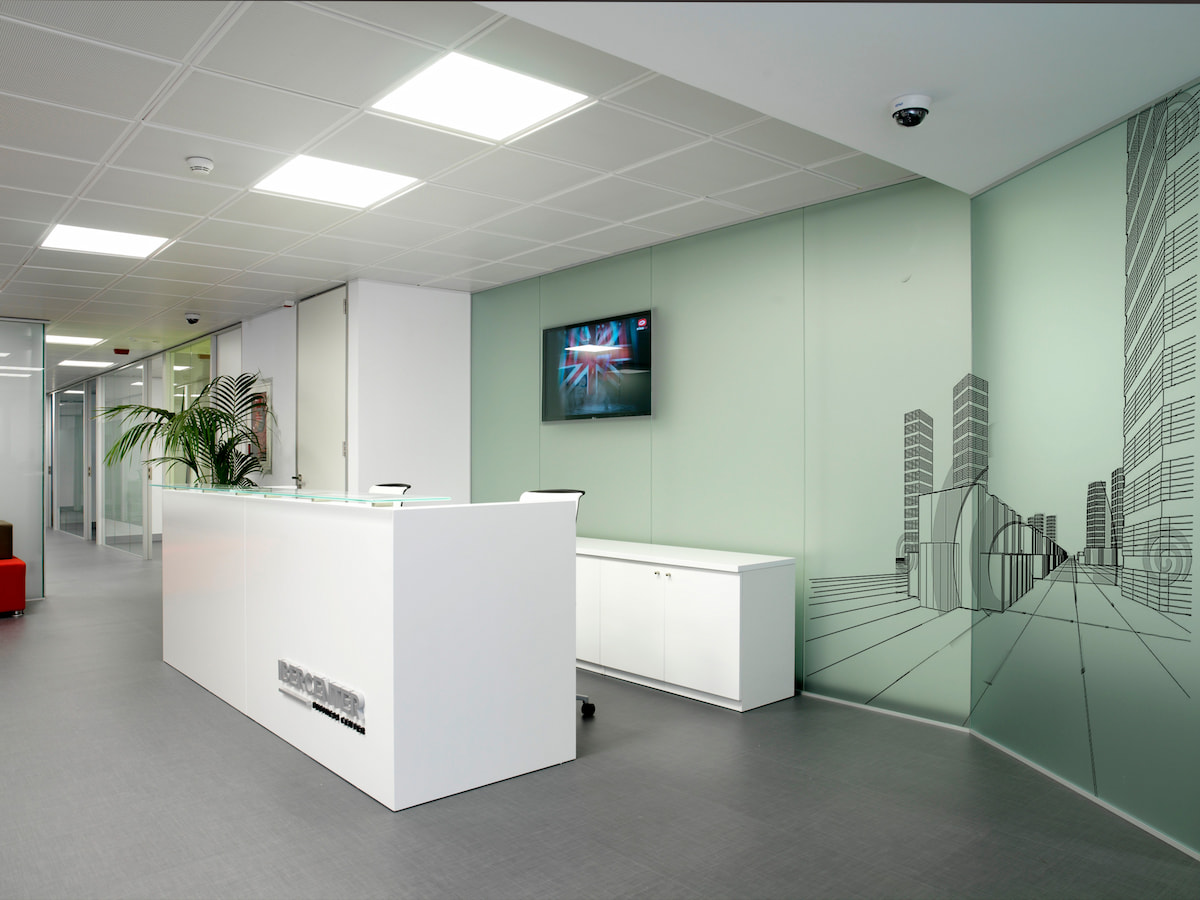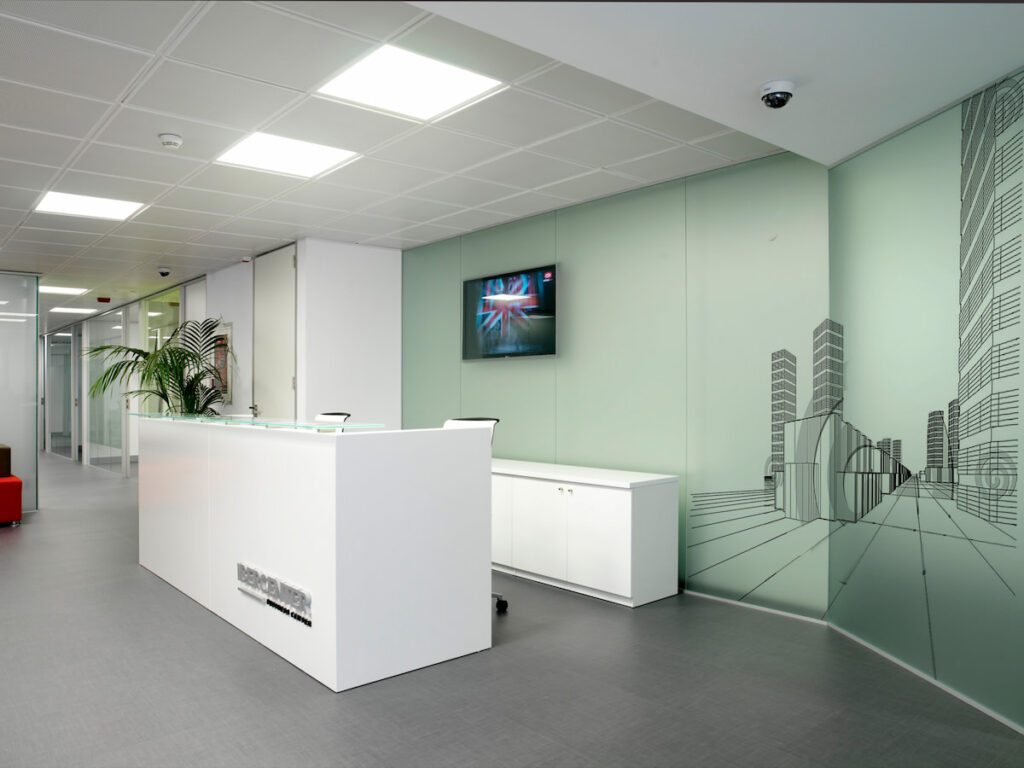 Ibercenter Azca, located in the financial heart of Madrid, offers an energetic atmosphere with meeting rooms and private offices. Flexibility and quality for your business.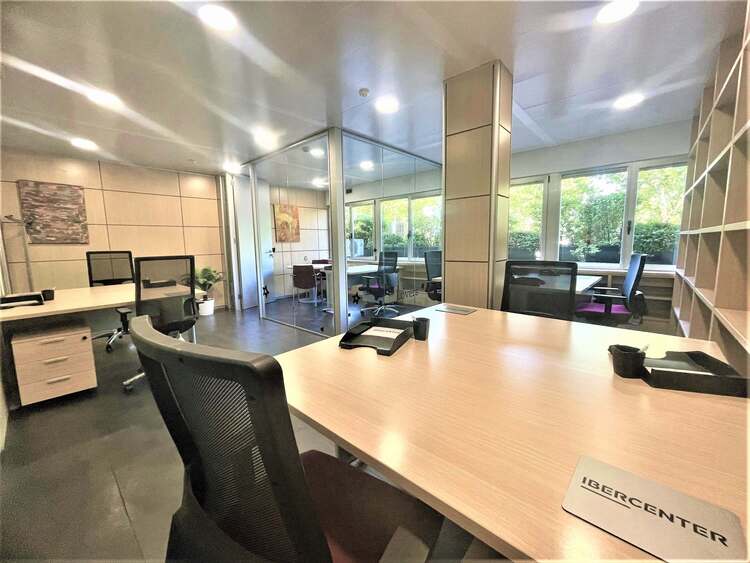 Ibercenter Velázquez, located in the prestigious Salamanca district, offers modern offices and flexible spaces. First class customer service.
Do you have any questions?
Access to the Ibercenter Gran Vía business center is available 24 hours a day, 7 days a week. This offers total flexibility so that you can adapt your work schedule to your needs.
Locating your business at Ibercenter Gran Vía, a premium location in the heart of the city, gives you excellent access to a wide range of services. In addition, being part of the Ibercenter community gives you the opportunity to interact and collaborate with other professionals, expanding your network and generating new business opportunities.
Although we are located in a pedestrian area, there are several parking options in the vicinity of Ibercenter Gran Via. There are several public parking lots nearby where you can safely park your vehicle during your workday. In addition, the central location of our offices also makes them accessible by several public transportation lines.