Offices, coworking spaces and meeting rooms in Azca
Located in the heart of Madrid's main economic area, Ibercenter Azca offers coworking spaces and offices for companies and professionals looking for flexibility and immediacy in a high quality environment. With more than 25 years of experience in workspace management, Ibercenter combines quality and expertise to provide tailor-made solutions that are adapted to the specific needs of each client.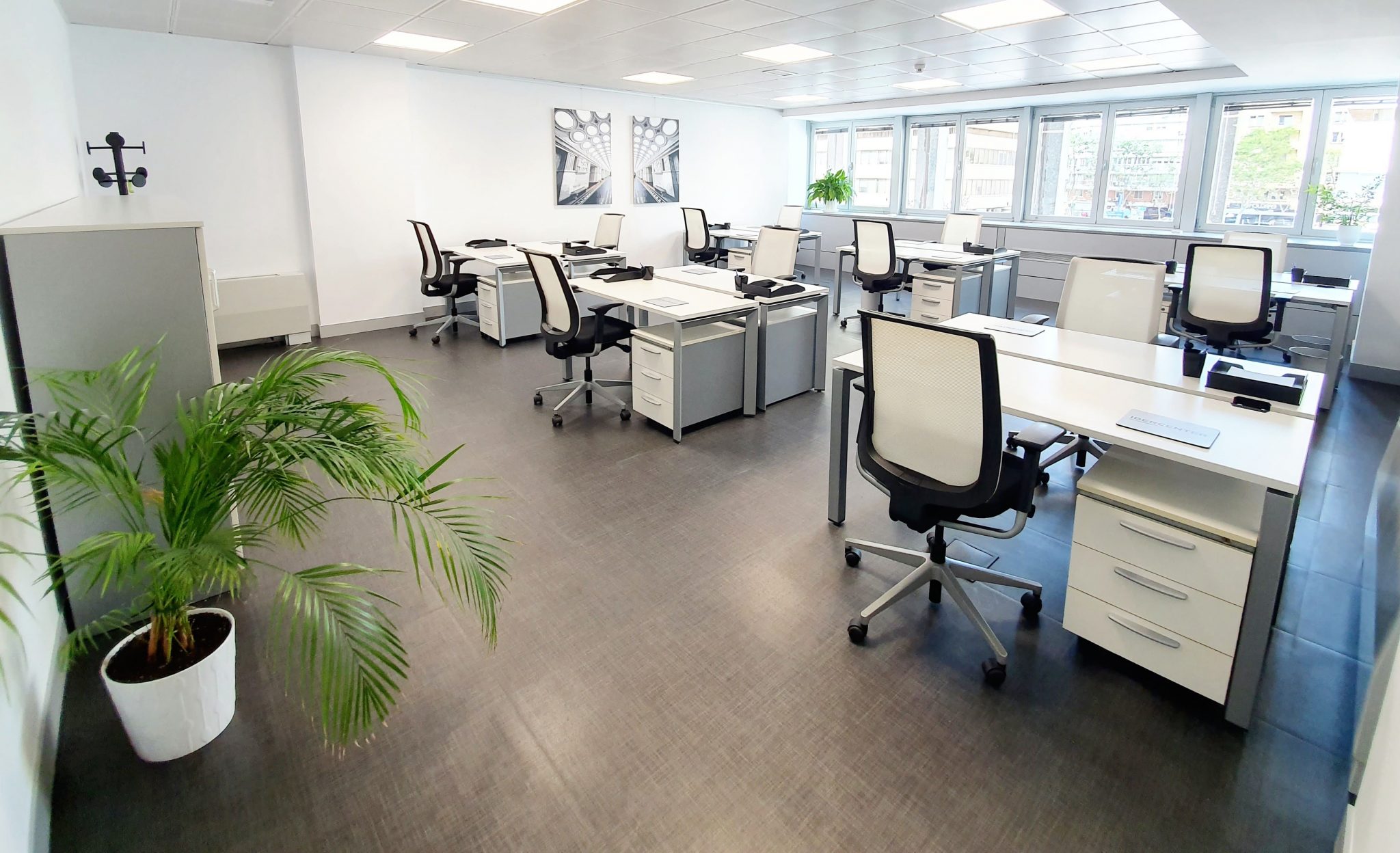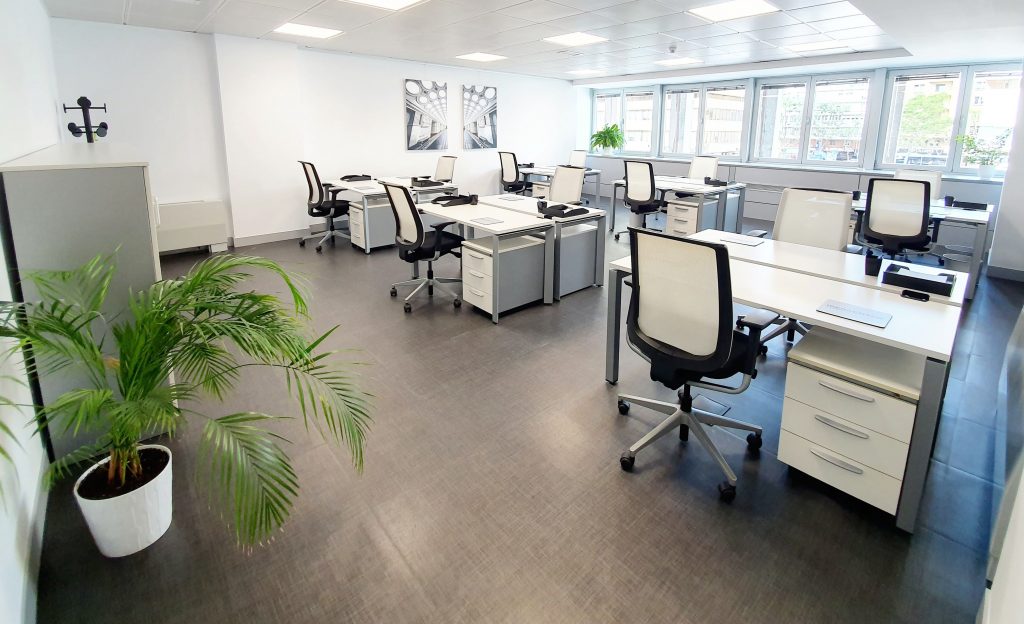 Premium workspace in Madrid's best financial district
Ibercenter Azca is much more than a workspace in one of Madrid's best financial districts. We want to be part of your team, providing you with an exclusive environment that goes beyond what you would normally expect from a coworking space in Azca. Our privileged location in Plaza de Carlos Trías Bertrán, next to landmarks such as Nuevos Ministerios, Paseo de la Castellana and the Bernabéu stadium, offers you a variety of customized workspaces, adapted for teams of all sizes.
With a total of more than 3,500 m2, Ibercenter Azca's facilities include different spaces spread over two floors. We have 15 meeting and training rooms of up to 100 m2, ideal for your team or client meetings. In addition, you will be able to enjoy 1,700 m2 of common areas designed to promote disconnection, the exchange of ideas and networking with other professionals. You will enjoy spacious receptions with waiting areas, telephone booths for your private calls, meeting points and dining areas equipped with all the amenities: refrigerator, microwave, filtered water, vending machines and more.
The best plan adapted to your business
Each business is unique and has particular needs. At Ibercenter Azca, we understand this and offer you a flexible and customized plan to help you maximize your growth potential in the heart of Madrid.
Our offices at Ibercenter Azca are personalized and professional workspaces designed for teams of any size. We offer personalized service and a premium working environment.
In addition to being a reference business center, Ibercenter is the perfect place to rent rooms in Azca for your team meetings, client presentations or training workshops. 15 fully equipped rooms of up to 100 m2 of floor space.
For those professionals who do not need a permanent physical space, but require a postal address in a prestigious location and different services and spaces according to their needs, our virtual offices in Azca are the perfect solution.
Would you like to meet us?
Ready to discover what we can do for you? Come visit us and discover everything Ibercenter has in store to help you grow your business!
What do you think about us?
Oficinas muy agradables, un edificio muy elegante, muy bien climatizado, un lugar de ubicación excepcional, cerca de todo. Ideal para la implantación de cualquier oficina.
La situación céntrica lo convierte en un lugar idóneo. Las instalaciones son amplias, modernas y el personal de recepción muy agradable. Sin duda a la altura de mis expectativas. Volveré a trabajar con ellos en el futuro.
Discover the variety of workspaces that Ibercenter offers in the city of Madrid, designed to meet your business needs in different privileged locations in the city.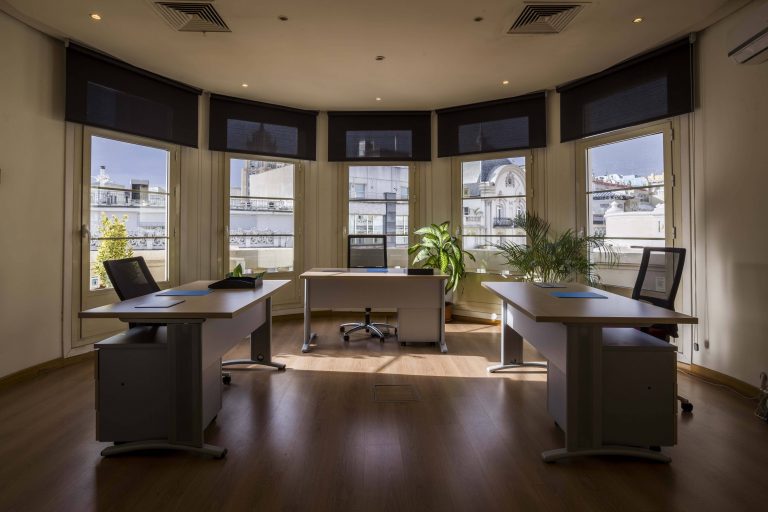 Ibercenter Gran Vía: located in an emblematic destination in Madrid, with premium services and collaborative spaces, ideal for all types of companies, from startups to international corporations.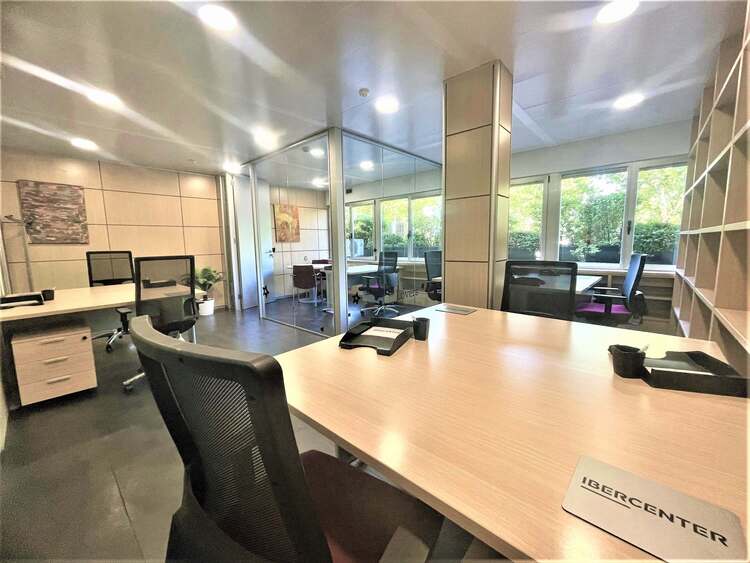 Our center in Velázquez: in the prestigious Salamanca neighborhood, with a distinguished and professional atmosphere. Modern offices, flexible coworking, meeting rooms and first-class customer service.
Do you have any questions?
At Ibercenter Azca, you not only get an optimal workspace, but also exceptional services and amenities. Among them, we share a building with a luxury 5-star hotel, a gym and a public parking with direct access to our facilities, which adds value to your work experience.
Locating your business in Azca, the financial heart of Madrid, allows you to surround yourself with a thriving business community, with access to a wide range of services and amenities. In addition to excellent transportation connections that make it easy for you and your team to get around. The proximity to places of interest such as Nuevos Ministerios and the Santiago Bernabeu Stadium also offers opportunities for meetings and corporate events.
Booking a meeting room at Ibercenter Azca is a simple and efficient process. Just contact our customer service team and we will help you find the room that best suits your needs, whether it's for a team meeting, a client presentation or a training workshop.