Coworking is a place where entrepreneurs, freelancers, and workers from different areas and sectors share the same workspace. This is a trend that has been growing steadily over the last 10 years, as it allows new work models to be adapted to shared spaces on an hourly basis.
The reasons why professionals choose a coworking space are varied:
The low price compared to other workspaces.

Seek a work environment that allows you to meet other professionals in the sector.

Establishing partnerships or agreements

To meet potential customers.
In this way, coworking is seen as an alternative to traditional offices and offices or to the new flexible offices. So, we tell you all about the co-working model to know which one to choose and when.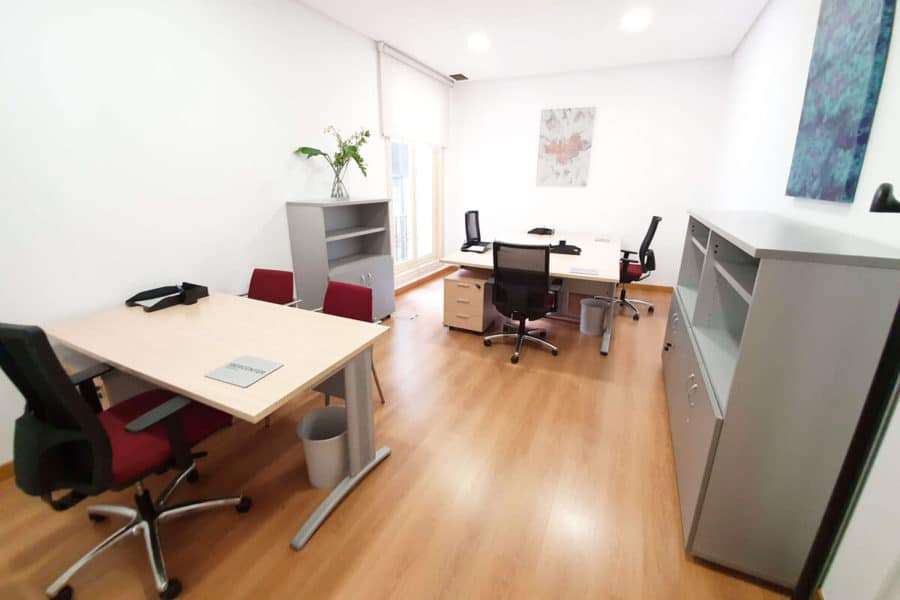 What type of professionals opt for coworking spaces?
Coworking is designed for those workers who need flexibility.
Consultants, freelancers, programmers, journalists, designers or salespeople are some of the profiles that can be found in a coworking space. are some of the profiles that can be found in a coworking space, since most of them only need a cell phone, a laptop and a good Internet connection.
There are also sectoral coworking spacesthat is to say, spaces prepared for a specific professional sector. For example, the coworking for artists, which is adapted for your artistic creations and, at the same time, you can share your work with other artists.

Working in these spaces allows you to develop your activity autonomously but sharing the space with other professionals from different sectors, giving you the opportunity toexpand your network of contacts and be part of a community without giving up your independence.
Advantages
Flexibility. This is the main advantage of a coworking space. Therefore, professionals can use these shared spaces as many hours as they need without being subject to long stays.
Private and proprietaryspaces. Coworking Centers also have

private rooms and coworking facilities for meetings and customer

service.
Expand your network of contacts:

You will be able to meet or join forces with other professionals, generate business opportunities and expand your networks in your sector.

Adaptable spaces. You can improve work-life balance by adapting the space to your work model.
Cost reduction: Coworking is a more economical option thanks to its flexibility. U

Using space only when you need it allows you to reduce the cost of renting an office in its entirety. In addition, the price includes the usual costs of maintenance, cleaning and supplies.

Optimal environment for working without distractions. Coworking spaces improve productivity over other options such as telecommuting.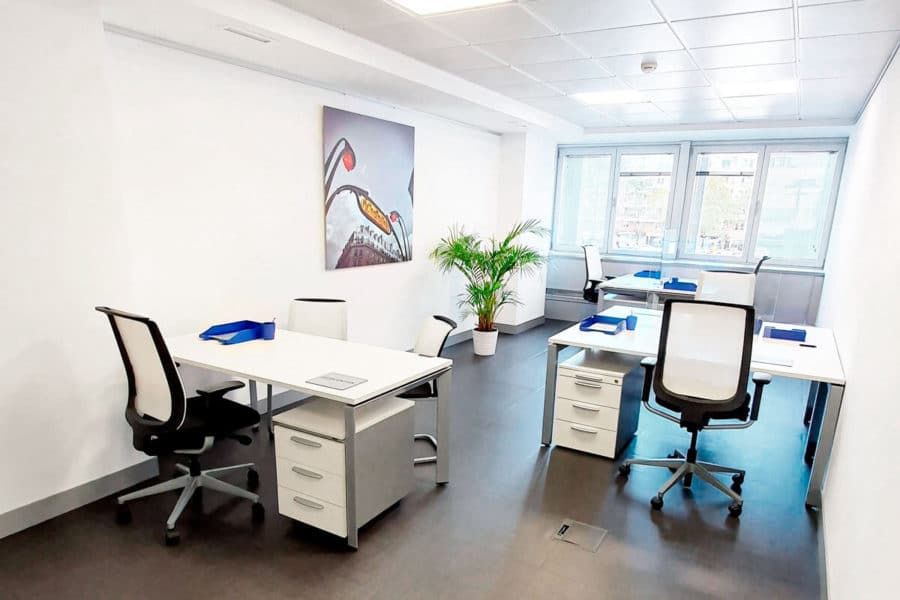 Inconveniences
Shared space

If you are used to working alone without sharing the same space with other people, you may find it inconvenient to work with several people in the same room. If you like to work in silence, headphones will be your best ally.

Space too quiet

. If, on the other hand, you coincide with users who work in complete silence, it may be uncomfortable to make a phone call or talk to someone.

Little privacy

There are few secrets within coworking spaces. Even if others are not listening to your calls, it is always inevitable that they will hear you. Fortunately, if you need to attend to private matters, coworking centers have private spaces or meeting rooms.
[cta_block]
What aspects should I look for when choosing a Coworking space?
When deciding on a coworking space, there are factors to take into account such as:
Comply with all safety measures. Since the advent of the Covid-19 pandemic, workspaces have had to adapt to new cleaning and disinfection measures. Choose spaces that respect the safety distance and comply with all mandatory measures recommended by the Ministry of Health.
Choose a well located and communicated place: Communication is a priority in a coworking space for you and your workers. If it is also in the center of the city, it will improve the image of your business in the eyes of your customers.
Ratings on Google Maps. The reviews on the so-called Google Map will allow you to learn about the experiences of customers who have already hired the services. Read user reviews to learn about their experience and whether it suits your needs.
Visit the space before hiring. Call, get information and visit the space where you are going to work. The space where you are going to grow your business is as important as the people around you.
Visit their websites and blogs. Large businesses always have a website with public contact information. Be wary of companies that only have one email address. At the same time, the business blog aims to provide tips and advice to help customers, such as ours.
Be sure to view photos or even videos of the site. Professional coworking centers have numerous images and videos of coworking spaces and co-working spaces.
How much does a coworking space cost?
There are a wide variety of coworking centers all over Spain.
The price of a Coworking Space depends on factors such as location, facilities, furniture and equipment made available to customers.

In Madrid the price of a coworking space ranges between:
One hour: 10-40 euros.
Daily: 20-90 euros.
Monthly: 150-350 euros.
The most economical is usually to choose the monthly option in a coworking space. However, there are also 10-day coworking vouchers, spaces to work 24 hours a day, only during working hours, flexible or fixed coworking.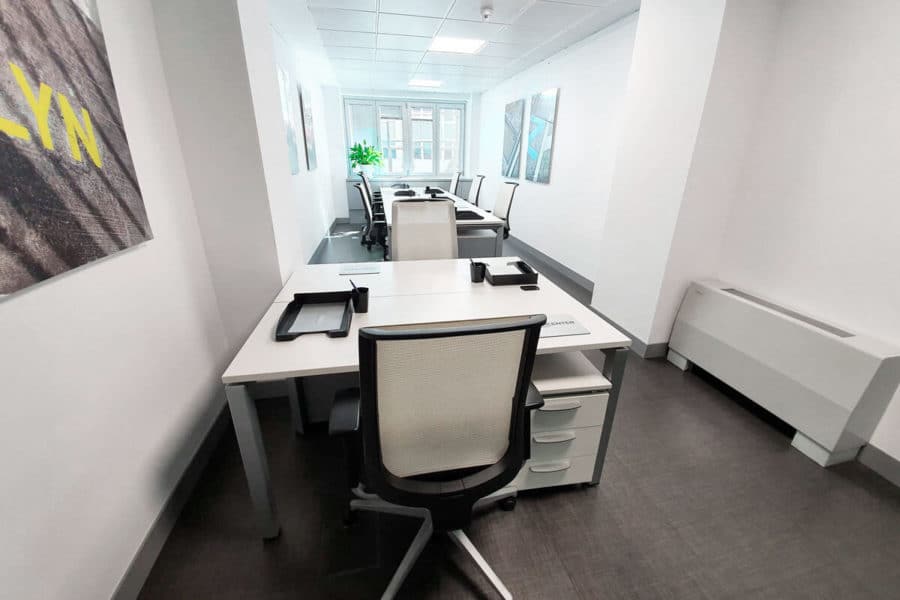 Is coworking for you?
If your job is flexible at the work level, you want to meet other companies and professionals, share ideas and save on the price, coworking space is perfect for you. As we have already mentioned, professionals such as journalists, consultants or designers usually meet this type of profile.
If, on the other hand, you need a quiet and private environment, these spaces will probably be counterproductive. Calls, noise reduces concentration and therefore productivity.
Another option is to test the space by the hour to see if it improves your productivity in those spaces. You can also opt for the so-called flexible or flex office flexible offices or flex offices private workspaces with more competitive prices than conventional offices.
At Ibercenter we have spaces for Coworking in Madrid for all professional profiles. Whatever your needs, in our Business Center you will find your workspace.
[cta_block tipo='centros' title=" description=" product_id='198′ ]